In early 2018 a National daycare chain closed its doors in the Norge community thus suddenly leaving a large amount of families without care for their children. Without hesitation, Curt and Kathy Gray decided to open Creative Critters Learning Center Norge. This is their fourth location that is helping to fill the daycare gap in this community. This center officially opened its doors August 6, 2018.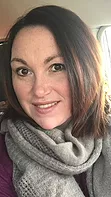 Meet our Director
Jessica Mills
Jessica Mills has been working in the education field since 1997. During her career she has had many roles, from classroom teacher to administrator. Working with families is her passion and she thrives off the energy from the children. Jessica feels that as educators we have the most treasured career in the world as we get to spend our days teaching and exploring. When she is not working she can be found spending time with her 3 sons, reading and crafting.
"I am thrilled to be a part of the Creative Critters team as The Gray's share my passion of learning and reaching our community," said Jessica.
---
In the News… Click Photo for Story
Kathy Gray (left) and her business partner, Kristin Tarrant, are renovating a Norge child care center to become Creative Critters' fourth location. The center opened for its first day Monday. (WYDaily/Sarah Fearing)
---