BUTTERFLY PRESCHOOL
Child Care From 3-5 Years Old
LEARNING HOW TO LEARN
Children in our Butterfly program will be preparing to enter a classroom environment soon, and we are here to help! While children are naturally curious, we can help them take that curiosity and turn it into learning. With our preschoolers, we focus on numbers and the alphabet, and work on our counting and reading skills. We also learn to recognize shapes and patterns, have interactive storytimes, practice poetry and vocabulary, and do plenty of arts and crafts. Learn more about what a day in the Butterfly room looks like and contact us today to enroll your child in our preschool program!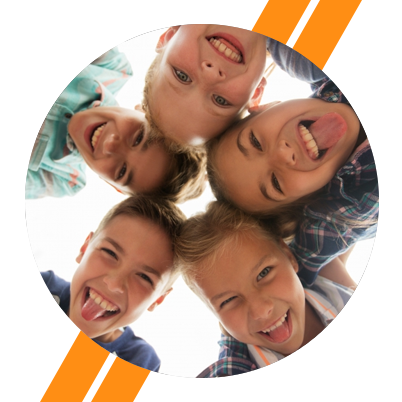 IN PRESCHOOL, WE LEARN TO…
Use our fine motor skills to make arts and crafts
Listen to teachers and classmates when they are talking
Resolve conflicts and play nicely
Play by ourselves and in groups
Do things independently like hanging up our coats or going potty
Butterfly Preschool Childcare
Dramatic play, outdoor play, and block building are important aspects of the preschool curriculum at our childcare centers in Williamsburg and the nearby areas. An appreciation and love of literature are developed throughout the Butterfly preschool program.
Early literacy is a key component of the preschool program and will help set children up for success in their future education endeavors. In our preschool program, children learn the alphabet and phonological skills through the use of an interactive word wall, games, and activities.
The Butterfly program also emphasizes counting skills and forming a foundational understanding of numbers, which are absorbed by incorporating them into fun activities.
Contact us today to learn more about our Butterfly program, schedule a tour at one of our five Williamsburg-area childcare center locations, and enroll your child in preschool with Creative Critters!
A Day In the Butterfly Room
Children are encouraged to look at books alone or with classmates. Adults read to the children on many occasions throughout the day. The children are exposed to essential literacy concepts to prepare them for kindergarten. The creative use of vocabulary is encouraged during circle time activities, interactive storytime, discussions of home and school experiences, poetry, and morning message.
Research shows that rhyming is a key component of early reading success. The children will be exposed to a generous amount of rhyming activities throughout the year.
Children will develop beginning number sense by interacting with a wide variety of materials. Counting skills, one to one correspondence, recognition of basic geometric shapes, patterns, sorting and classifying, measuring and weighing, and basic calendar skills are just a few of the topics the children will be exposed to all while they are playing and having fun!
BUTTERFLY ROOM DAILY SCHEDULE
8:00-8:45 Small Group Table Toys
8:45-9:00 Math/Fine Motor
9:00-9:45 Circle Time
9:45-10:00 Snack
10:00-11:15 Small Group Activity /Gross Motor/Interactive Writing/Art/Guided reading
11:15-11:45 Outside Play
12:00-12:30 Lunch
12:30-12:45 Story Time
12:45-2:30 Rest Time
2:30-3:00 Snack
3:00-3:15 Story Time
3:15-4:00 Centers
4:00-4:45 Outside Play
5:00-6:00 Developmental Centers/Small Group Activity/Outside
WHAT ARE YOU WAITING FOR?
Sign Up Your Child For Creative Critters Learning Center Today!
With childcare center locations in Williamsburg, West Point, New Kent, Quinton, and Norge, Creative Critters is here to help your child bloom! Contact us online or by phone today to schedule a time to tour our childcare learning center.